International Summer Camp in Norway: let's go!We put in ours suitcase: board, sun-cream, a bikini to go surfing and the detailed guide "Everything you need to know…" that has been written by the Powder Puff Girls.
After a long but good travel I finally arrived at Folven's camping. I was very tired and upset because of the constant light (20 hours of light per day!). Fortunatly a confortable room was waiting for me!
The day after I had a delicious American breakfast while I made friends with the organizers, girls from the norwegian snowboard association, and the others girls present at the meeting.
At 10 a.m. the bus left the camping to go to the glacier, just 20 minutes from the camping. Than we took the lift that carried us on the slopes. On the glacier (1800 mt) there were 3 red slopes, a stony black freeride, and a endless park with rails, jumps, boxes and, although the temperature wasn't adapted, there was a good snow. During the week the advanced girls always rode in the park with some instructors, while the others learned or improved theirs riding.
By midweek we arrived at Stadt, just 2 hours from Stryn, and we went surfing all day long.
The sun didn't shine but after we had put on ours wet suits, we could withstand the cold water. Some girls succeeded in riding the waves, although they weren't very high.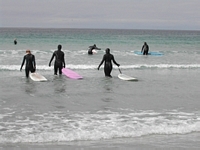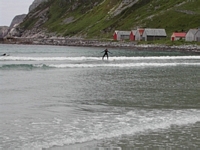 We came back to the camping for dinner in the evening and after an official partecipant's introduction (there were girls from Norway, Sweden, Finland, Latvia and Italy) we started working at 7 p.m.
Every evening there were lots of workshops to choose but the main goal was to involve in snowboard as many girls as possible and to increase the competitors' number in Europe and to improve theirs level.
For a happy ending there wasn't nothing better than a mini girl contest!
After installing a good music system, choosing the speaker and arranging the box the competition started.
Astonishingly, the bests were the beginners which even took a bsboard to fsboard.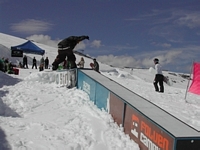 We gathered in the evening to listen to music, drink good ale and to award the prizes for everybody. Then we said goodbye.
I hope there will be other days like these but I also hope that more countries will join in this project in future.
txt&pics: Deborah (Italy)