Lake Louise showed Billabong Flaunt It a great time this past weekend.  With not a cloud in the sky and warm temperatures, the Slopestyle course was flawless and the girls were stoked on the conditions.
Calgary's Breanna Stangeland took home the top prize purse with a switch boardslide and a 50-50 180 out on the top two rails, linking up a switch backside 360 and topping off her run with a cab 720 on the final jump.  Terri Dreger and Steph Haines were close behind in second and third respectively.  Stangeland's 720 also landed her the Dakine Best Trick Award.
The rail jam went down in the afternoon on a set of three features: a down rail, a flat box, and down flat down tube.  Progressive tricks were seen throughout the jam with 9-year old Molly Hignel as a standout who worked her way up to hit all 3 features.  A new award was rewarded to Molly as she proved herself to be the "Grom of the Day".  Kira Lengkech won the rail jam with a switch boardslide 270 out on the down rail.  Lengkech was followed by Steph Haines and Elysha Piller in second and third.
Billabong Flaunt It is proudly supported by VonZipper, Dakine, InStance, and Snowboard Canada Women's Annual.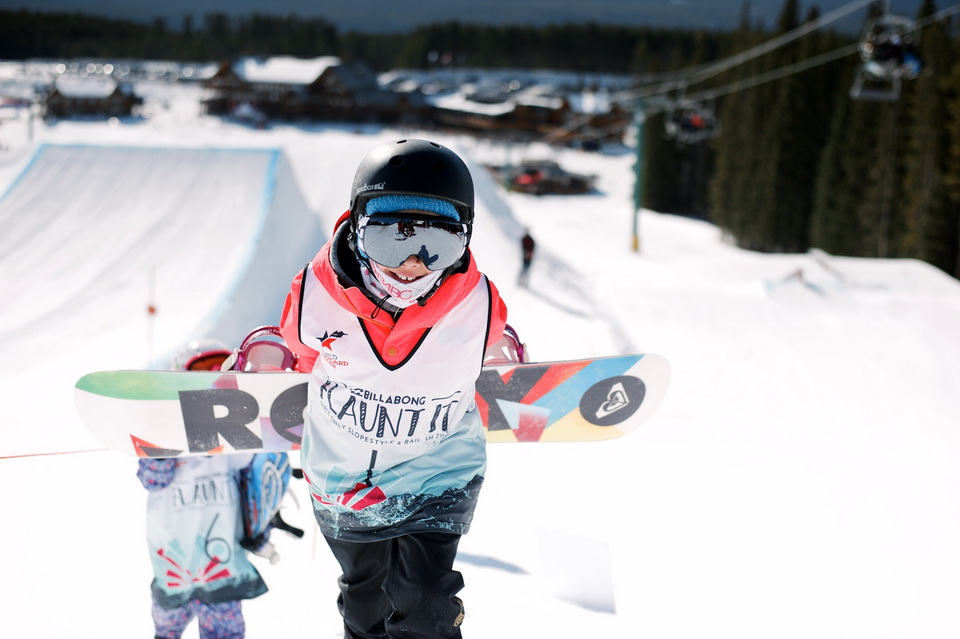 RESULTS:
Slopestyle
1st: Breanna Stangeland $700 (Burton, Smith, The Source)
2nd: Terri Dreger $500
3rd: Steph Haines $300 (One Boardshop, Bonfire, Salomon, Coal)
4th: Risa Nakashima (Lead, Union, Deeluxe)
5th: Bailey Birkkjaer

Rail Jam
1st: Kira Lengkech $250 (Capita, Oakley)
2nd: Steph Haines $100 (One Boardshop, Bonfire, Salomon, Coal)
3rd: Elysha Piller $50 (Unlimited)

Dakine Best Trick: Breanna Stangeland $100 (Burton, Smith, The Source)
VZ Rag Doll Award: Maelle Shaw
Grom of the Day: Molly Hignel
For all Flaunt It information, including registration, visit www.billabongflauntit.com or visit us on Facebook at www.facebook.com/billabongflauntit.