Last Saturday the riders at the Southsidejam in the Snowpark Nassfeld showed again their skills in freestyle snowboarding.  The conditions were ideal. Together with the Nassfeld lift company (Herzog Klaus) and our main sponsor Blue-Tomato we offered the young and motivated riders the opportunity to prove their talent in a competition and with perfect conditions.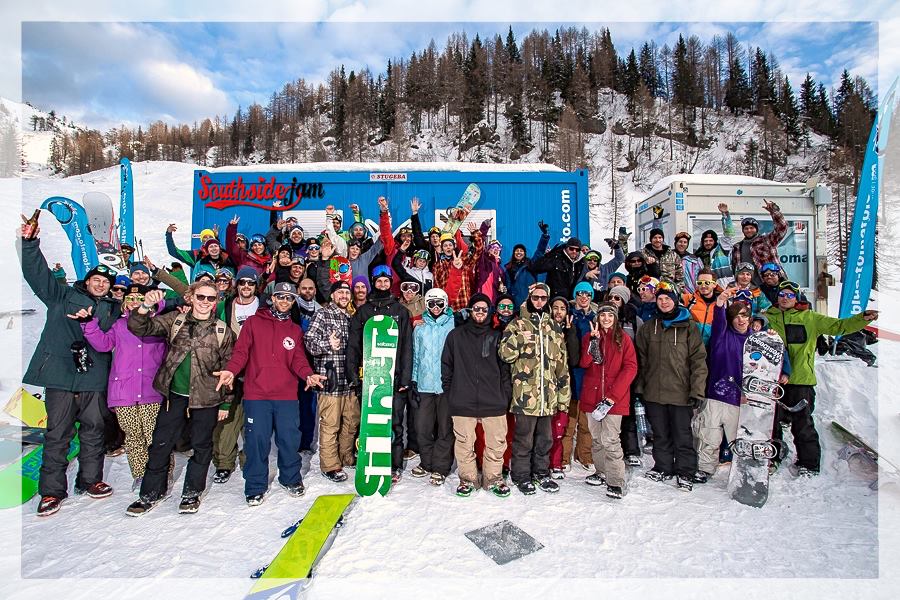 With the usual chilled atmosphere & perfect sound from the Four Star Foundation the riders starting from Youngguns to our Legends pulled some amazing tricks over Kickers and Rails and fired up the audience properly.
For the winners we handed over a lot of prizemoney, Snowboards from Rope, Vouchers and a lot of further prizes from Blue-Tomato. In addition to the prizes the Top 3 Riders (Girls/Rookie/Pro) received wildcards for the "Shred Down Austrian Masters" attending next weekend in Westendorf.
The contest was splitted in two main criteria:
– Kicker Contest
o Double-Kicker-Line + Wallride
– Rail-Session
o "Moneygiveaway Parkjam" on selected obstacles through the Snowpark
In both sections the riders had several runs available to convince the Judges from their skills.
The Final Results – Southsidejam 2015
PRO's:
1. Roland Scharmer (AUT)
2. Felix Widnig (AUT)
3. Marian Juvan (AUT)
ROOKIE's:
1. Andrea Londero (ITA)
2. Igor Schincariol (ITA)
3. Teo Hofman (ITA)
GIRL's:
1. Pilar De La Cruz (ESP)
2. Xenia Klackl (AUT)
3. Daniela Stertin (AUT)
GROMS's:
1. Robin Maier (AUT)
2. Aljaz Rasta (ITA)
3. Erik Dovjak (AUT)
The already legendary after-contest party took place again in the Cube Club/Hotel in Tröpolach and marked the perfect end for a perfect day.
Many Thanks to all helpers, sponsors, partners & supporters for this amazing day in the Snowpark Nassfeld.