The 11th edition of the Grandvalira Total Fight allowed the spectators to witness one of the most recognized events in the calendar of The World Snowboard Tour. The riders who participated in the Andorran rendezvous did not disappoint the audience with a very high level of tricks.
After the practice session on Friday, the 40 riders had everything in play on Saturday in an elaborate Slopestyle circuit composed of five different features; a rail combo, followed by a canon box, an 18 meter Table top, a 16 meter kicker and a final transfer step up to step down / donkey rail.
On Saturday, Grandvalira rose cloudy and miserable but within a couple of hours the sun came out. The shapers of snowpark El Tarter pampered the circuit throughout the competition to ensure maximum performance until the end of the contest.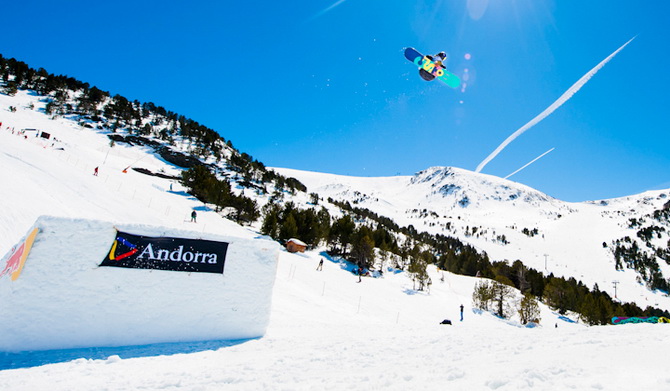 In the qualifying session, all riders had two runs to get the highest score possible to try and qualify for the finals of the top eight. Seppe Smits, World Champion in 2011, was first to qualify for the final session followed by American Eric Willet, Britan's Rowan Coultas, American Brett Moody , Norwegian Markus Olmstad, Finish's Kalle Jaervilehto and Roope Tonteri and finally Austrian Mathias Weissenbacher.
When it was time for finals, where the selected group of eight riders had two opportunities to win the eleventh edition of the Grandvalira Total Fight, the participants jumped into the ring in reverse order of qualifying and the tension increased at the start gate.
In the first of two rounds all riders gave their best with Seppe Smits setting the standard high, after nailing his run with a Frontside 270 on 270 out on the first rail, switch boardslide 270 out on the canon box, Cab double 1260 Indy on the first jump, Backside double cork 1080 nosegrab on the second kicker and Ollie to laid out backflip on the final feature. An impressive winning performance.
Seppe Smits, after being crowned champion of the Grandvalira Total Fight, said "I'm feeling pretty great. It was a challenge, I didn't start off well, but increased my confidence during the contest. The shapers did an awesome job and I managed to land the tricks I had in mind. All of this surrounded by great friends, it's the best feeling one can have."
The eleventh edition of the Grandvalira Total Fight had its climax with the prize giving and final party at the Abarset; the competition was applauded by many as the best edition of all time.
FINAL CLASSIFICATION (Top 16):
1st – Seppe Smits (BEL) Run F: 84.00
2nd – Roope Tonteri (FIN) Run F: 79.33
3rd – Eric Willet (USA) Run F: 78.00
4th – Rowan Coultas (GBR) Run F: 73.33
5th – Kalle Jaervilehto (FIN) Run F: 67.66
6th – Brett Moody (USA) Run F: 61.66
7th – Markus Olmstad (NOR) Run F: 45.00
8th – Mathias Weissenbacher (AUT) Run F: 29.00
———
9th –   Mack Kyle (USA) Run Q: 76.66
10th – Spencer Whiting (USA) Run Q: 71.66
11th – Moritz Thoenen (SUI) Run Q: 69.66
12th – Jonas Boesiger (USA) Run Q: 66.66
13th – Jordan Phillips (CAN) Run Q: 66.33
14th – Dario Burch (SUI) Run Q: 63.66
15th – Sacha Moretti (FRA) Run Q: 62.00
16th – Kim Rune Hansen (NOR) Run Q: 57.33
More info:
www.totalfightmasters.com
www.facebook.com/GrandvaliraTotalFight