Building on three successful years as one of Canada's largest annual snowboard gatherings, the 2016 edition of the Beaver Valley Banked Slalom promises to be the best yet with 250 riders competing for bragging rights and a shot at an entry to the Mt Baker Legendary Banked Slalom.
While it may be one of the only Canadian stops on the World Banked Slalom Tour, the Beaver Valley Banked Slalom is a laid back, super cool contest that celebrates snowboard culture like few others. And it raises thousands of dollars for Leukemia Research in memory of Beaver Valley snowboarder Jackie Snarr.
The Beaver Valley Banked Slalom is truly one of the only events in Canada where you will find shred "legends" from park, pipe, boardercross and race riding together and alongside the best "groms" and industry icons. And where staff from your local shop compete against staff from your local park.
Where a shred legend will kick your ass riding a 20 year old retro board. Where the rider drinking a PBR beer next to you on the deck at the afternoon apres might be the marketing director of one of the biggest companies in snowboarding. Where kids compete against their dads and moms. Where the "ski" racks at the base lodge are filled 100% with snowboards!
Where everyone is there NOT to win cash but to have fun riding with their friends and fellow shreds. Where there are more people riding Beaver Valley's awesome park runs than it's groomed trails. Where the afternoon deck party with bbq, beers and live bands is more important than the awards ceremony!
You can expect something new and cool every year at the Beaver Valley Banked Slalom from rails in the finish corral to a skateboard mini-ramp on the deck to a mini-shred park for the kids to retro rider awards and awesome punk bands. And there are mini-jugs of local Beaver Valley maple syrup for everyone. And special accolades for the top industry riders. And tons of charity prize draws supported by the leading brands in snowboarding.
No wonder the Beaver Valley Banked Slalom sells out every year!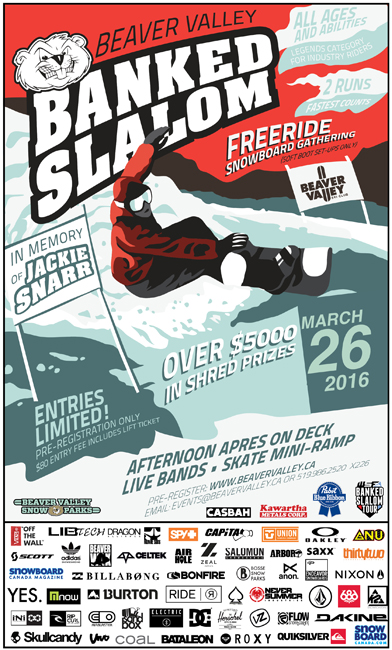 For more info or to register in advance visit: www.beavervalley.ca.
For media inquiries contact: kim.giffen@beavervalley.ca or ridenow@bell.net.
Click here to check out the 2015 Beaver Valley Banked Slalom, including video, photos and results.
The Beaver Valley Banked Slalom is a freeride (soft boots only) event with categories for all ages. Entry is open to all riders on a first come basis. The best of two runs counts.
Beaver Valley – "Where Adventure Lives!" – is one of Ontario, Canada's premier family-based snowboard and ski clubs featuring the most diverse terrain in the region including extensive snow parks, legendary steeps and moguls; back bowls; terrain-based learning areas; progressive programs for snowboard, freestyle ski and race; a wide variety of winter recreational activities; and award-winning food and après!