Billabong Flaunt It made its way to the West Coast stopping on Vancouver's North Shore at Grouse Mountain this past Saturday.  The fog crept in the early morning as the competitors warmed up in practice causing the event to be modified, so the girls started the day off with the Rail Jam.  Sarah Gall, road tripping from Oregon made a pit stop at Grouse to compete at Flaunt It, landed herself in first place in the rail jam with a gap front side 270 on the down flat down rail.  She was accompanied on the podium with Kiersten Higginson and Katherine Lacroix-Vogel.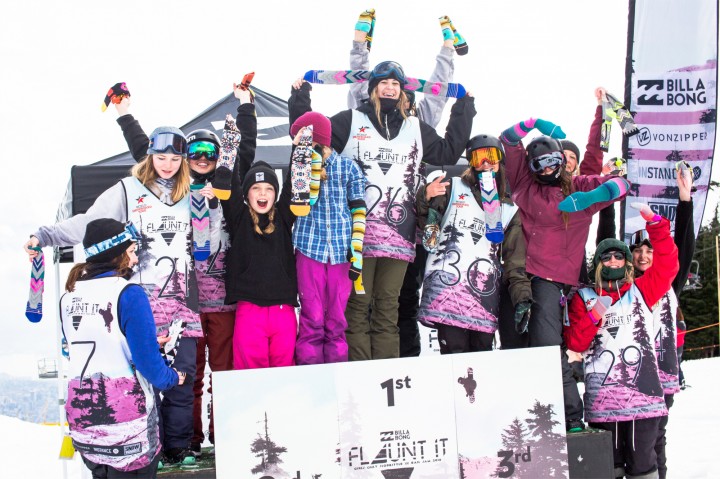 The fog and the sun battled throughout the day, with the sun winning out providing visibility for the second half of the day.  With the weather battle settled, the girls set their sights on the slopestyle course.  Michelle Zeller from Breckenridge, Colorado squeezed out first place in a tight battle, with Kiersten Higginson close behind her in second.  Zeller's run consisted of technical rail tricks including a front board 270 out on the down bar rail, followed by a frontside 720 on the jump, and a nose slide on the rainbow rail.
The grom award was a tie between the two eager 11 year old competitors, Juliette Pelchat & Maggie Crompton.
Billabong Flaunt It is proudly supported by VonZipper, InStance, and Snowboarder Magazine.
RESULTS:
Slopestyle
1st Michelle Zeller $700 (GNU, Outdoortech, Phunkshun Wear, Flux, Smith)
2nd Kiersten Higginson $500 (Spy)
3rd Sarah Gall $300
4th Chloe Woodruff (Mount Seymour)
5th Kozumo Yoshizawa (Ride, Adidas Eyewear, Dakine, Collection) 
Rail Jam
1st Sarah Gall $300
2nd Kiersten Higginson $150 (Spy)
3rd Katherine Lacroix Vogel $50 (DC, Somewon Co) 
VZ Rag Doll Award: Bailey Birkkjaer
Billabong Girls Grom Award: Juliette Pelchat & Maggie Crompton
For all Flaunt It information, including registration, visit www.billabongflauntit.com