Sweden's Sven Thorgren and USA's Hailey Langland dominated a star-studded field of finalists to win The 2016 Mile High by Carlton Dry.
With a unique slopestyle format, the top 12 men and top eight women from yesterday's semi-finals had the best-of-two runs on the jump line and best-of-two runs on the rail line to impress the judges. Belgium's Seppe Smits won the PS4 for scoring the best overall jump run, and Norwegian young gun, Marcus Cleveland won the best rail run. But it was 21-year-old Sven Thorgren who was the most consistent, with the highest combined scores from jumps and rails to take the A$5000 prizemoney for winning The Mile High by Carlton Dry.
"The Mile High by Carlton Dry was sick today!" said Sven after his win. "Everybody was killing it. I'm really pumped to have a great start to the season. It was a good final, and it gets me really pumped to start the year with a win. It was a fun format with the rails and jumps judged separately. It's a new format that was good to try here at Perisher."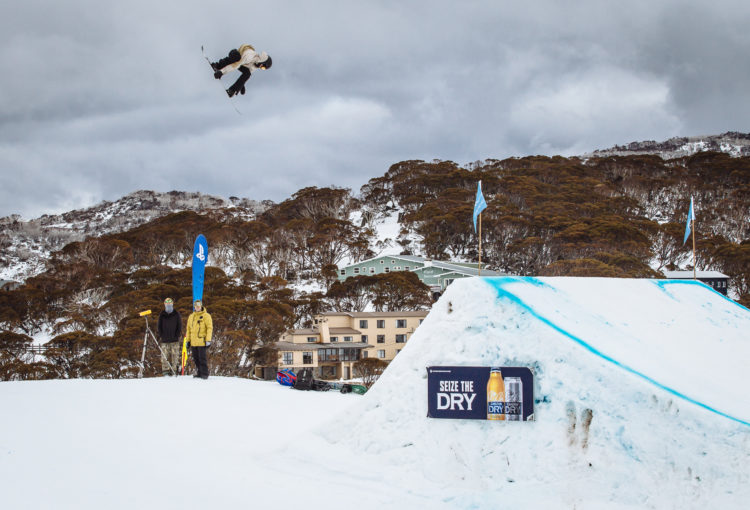 Sven's jump run included a double crippler on the rider-favourite halfpipe feature, followed by a double backside rodeo, cab 900 nosegrab, and finishing with a backside 1080 stalefish on the last jump. His rail run started with a switch-backside tailslide-to-270 off, butter to backside 180 on the downbar, switch-boardslide switch-up to fakie, and cab 450 gap on the flat-down rail. 17-year-old Marcus Kleveland added to his Playstation 4 prize with $3000 for second place overall, while Seppe Smits combined with his winning jump run for third overall.
Over three days in Perisher's Front Valley, 110 of the world's best professional slopestyle snowboarders competed against 10 of Australia's best. "It's pretty insane how good all the riders are here," said Sven Thorgren. "Pretty much all the best riders in the world come here to Perisher at this time of year, and it's great that we get to do this competition."
In the women's, Hailey Langland continued her domination from semi-finals, winning two Playstation 4's for Best Jumps and Rails Line, as well as the $3000 overall winner's prizemoney. In fact, the semi-final placings were replicated in the finals with UK's Katie Ormerod and Japan's Miyabi Onitsuka making up the all-teenage podium.
"I love Perisher!" said the 16-year-old X Games bronze-medallist, Hailey Langland. "I love what they did with the course. It's been really good to come out and ride it". The Mile High by Carlton Dry is a World Snowboard Tour (WST) International Level event, and the high number of WSPL (World Snowboarding Points List) points on offer at Perisher will set up the slopestyle snowboarders coming into the Northern Hemisphere winter as they aim to qualify for the 2018 Winter Olympics Games in PyeongChang, South Korea.
The Mile High by Carlton Dry 2016 Final Results
Men:
1. Sven Thorgren (SWE) – $5000
2. Marcus Kleveland (NOR) – $3000
3. Seppe Smits (BEL) – $1500
4. Eric Beauchemin (USA) – $500
Playstation 4 Best Jumps Line: Seppe Smits (BEL)
Playstation 4 Best Rails Line: Marcus Kleveland (NOR)
Women:
1. Hailey Langland (USA) – $5000
2. Katie Ormerod (GBR) -$3000
3. Miyabi Onitsuka (JPN) -$1500
4. Jessika Jenson (USA) – $500
Playstation 4 Best Jumps Line: Hailey Langland (USA)
Playstation 4 Best Rails Line: Hailey Langland (USA)