With 250 riders entered, the 2017 Beaver Valley Banked Slalom capped off the season as largest snowboard gathering in Ontario Canada, attracting the best park, pipe, race and freeriders, from the newest generation to the legends and champions of old.
The Beaver Valley Banked Slalom is the one annual event that brings together the entire snowboarding community for a fun "bragging rights" chase through the banked course as well as to shred some final park laps, ending with a massive afternoon apres! The Foremast Jacks band were back by popular demand to reprise their live music performance of last year to rock the deck party! Many thanks to Madjack Beer for supporting event!
A new addition this year was a classic spring snow "pond skim" in front of the base lodge deck during the afternoon. It provided some extracurricular fun for a number of banked slalom shredders and plenty of entertainment for onlookers, some of whom got as wet as the pond riders thanks to some well executed pond carves (Nick Marshall and Joel Dalacker!)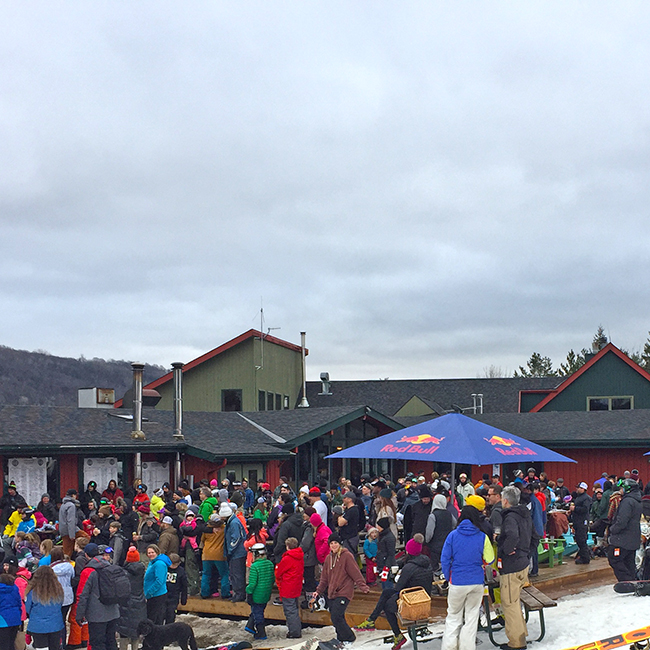 This year's banked course was one of the most challenging and fun to date but still generated very fast times despite softening spring snow conditions. The fastest overall men's and women's riders were last year's champs, boardercrosser's Ryan Tryhane and Tayler Wilton who also won their 20-29 "Almost Washed Up" age categories. They took home massive jugs of Beaver Valley's Canadian maple syrup and some new gear courtesy of Capita and Union for their victories.
As part of the WSF World Snowboard Banked Tour, the Beaver Valley Banked Slalom's top three fastest men and women will be entered in the Tour's lottery to score spots in the 2018 Legendary Mt Banked Banked Slalom, to be announced later this year. Congrats to this year's fastest: Men – 1. Ryan Tryhane; 2. Kenny Riedman; 3. Michael Nazwaski. Women – 1. Tayler Wilton; 2. Hannah Kilmer-Choi; 3. Stephanie Angeja.
Local shop staff and snowboard reps also battled for the coveted "Union Bindings Faster Industry Rider" award. This year it was Endeavor/Electric/Rip Curl rep Lee Jack scoring the fastest lap followed by Capita/Union/Dragon rep Connor Dudgeon and Sanction shop's Travis Tedford!
The famed Beaver Valley Snow Parks were in great spring snow condition with multiple jump lines and tons of rail, jib, transition and box set-ups! Thanks to Caleb Bosse and the BV Snow Parks crews for the amazing work on the parks and banked slalom course!
One of the best things about the Beaver Valley Banked Slalom is the charitable funds it raises for Leukemia Research at Princess Margaret Hospital Cancer Centre in memory Beaver Valley snowboarder Jackie Snarr. This year's Banked Slalom raised $16,000, adding to the over $47,650 raised by previous year's events!
Thank-you to all of the BV Banked Slalom sponsors: Madjack; Ski Big 3 – Lake Louise/Sunshine/Norquay; Kawartha Metals; Union; Capita; Vans; Burton; 686; Ride; Arbor; Zeal; K2; Dragon; Coal; ThirtyTwo; Beaver Wax; Sandbox, Squire Johns, Beaver Valley Ski Club and member volunteers.
For Instagram pics of the Banked Slalom follow @BeaverValley.SnowParks.
Video & Photo Gallery Link – 2017 Beaver Valley Banked Slalom: beavervalley.ca/2017/04/banked-slalom-photos-2017
Banked Slalom Podium Results (by age category)
GROMS 14 & UNDER GIRLS
Hannah Kilmer-Choi, Alpine Club
Mikayla Crawford, Beaver Valley
Brenna O'Brien
GROMS 14 & UNDER BOYS
Cameron Spalding, Pine Valley Projects
Liam Denney, Mt St Louis
Griffin Levy, Beaver Valley
YOUNG GUNS WOMEN 15-19
Isabella Ottino
Katie Speiss
YOUNG GUN MEN 15-19
Michael Nazwaski, Beaver Valley
Ryan Lalonde
Riley Howell, Milton Heights Glen Eden
ALMOST WASHED UP WOMEN 20-29
Tayler Wilton
Stephanie Angeja, Milton Heights Glen Eden
Katie Shultz
ALMOST WASHED UP MEN 20-29
Ryan Tryhane, Caledon
Kenny Riedmann, Caledon
Rich Evanoff, Brimacombe
MASTERS WOMEN 30-39
Erika Langman, Blue Mountain
Meghan Loney, Bue Mountain
Marie-Michele Pethick
MASTERS MEN 30-39
David Offierski
Brad Martin
Ryan Caesar, Beaver Valley
LEGENDS WOMEN 40-49
Aexis Ginn
Elaine Kilmer-Choi, Apine Club
LEGENDS MEN 40-49
Chad Critchley, Devils Glen
Brandon Hune
Andrew Pethick
IMMORTALS WOMEN
Linda Leistner, Alpine Club
Techa Van Leeuwen, Beaver Valley
Annie Hartviksen, Beaver Valley
IMMORTALS MEN
Robert Lalonde
Dennis McGuinness
Steve Jarrett, Beaver Valley