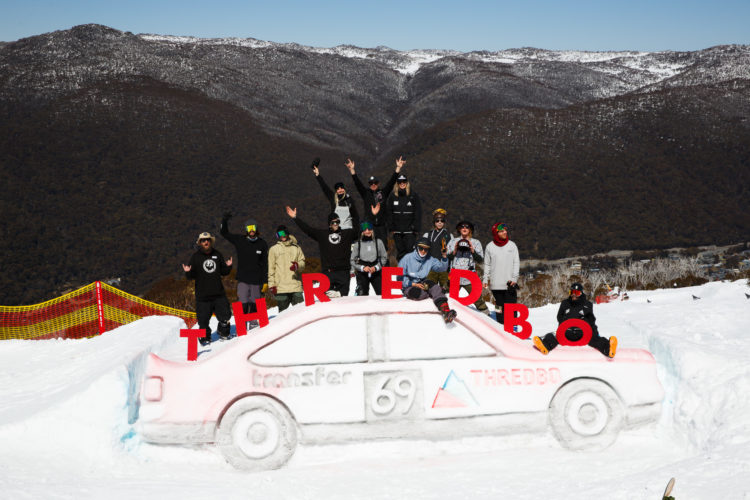 Boom! The Fourth Annual Banked Slalom went off with an absolute bang…and I mean bang! If you were in Thredbo this weekend and took part in the snowboarding celebrations you would know what we're talking about!
All competitors we're greeted with perfect conditions on Sunday to hit the course with speed and confidence. It was nothing but blue skies, spring sun and good times up at the all new course location 'The Playground'. The course offered more long, drawn out turns, allowing for everyone to enjoy the course at their own pace…however by the looks of what went down throughout the day, the only pace everyone had on their mind was…FAST!
It sure was one gathering of the tribe as the event welcomed every generation of snowboarder to come and get involved and and have a crack at some fast flying action. From grom women to masters men, everyone killed it both on their board and in spirit.
The Fourth Annual Transfer Banked Slalom was lucky enough to host some of the worlds best snowboarders this weekend off the back of Volcom's event 'BOARDSTOCK'. The likes of Terje Håkonsen, Pat Moore and Mike Ravelson showed to give the local boys and girls a run for their money and boy did the locals have to run!
In the Open Women, it was Wiki Jones (fastest women in Thredbo) who took out the event with style, grace and most importantly…SPEED! Wiki was closely followed by the shred mum superstar herself, Abish Bright in second place and Amber Arazny flew through the course to take out third place.
The Open Men's category was stacked deep with heavy hitters as mentioned above. In first place it was the man, the myth, the legend himself, Terje Haakonsen that was crowned king of the Fourth Annual Transfer Banked Slalom. Terje had local shredders Ryan Tiene and Jye Kearney close on his tail, Ryan just snuck in with second place followed by Jye for third.