About Banked Slalom
Banked slalom combines the roots of snowboarding, surfing and skateboarding.
The past and the future meet in the banked slalom, the original discipline which everything started from. The WSF Banked Slalom Tour concept offers a platform and a network within currently existing events and support to create new ones.
Banked slalom is an easy way to bring more attention to snowboarding, from the media to new consumers: it is an all-ages discipline, a low risk sport and people have a lot fun competing in contests that do not require professional skills.
How to become a part of the WSF Banked Slalom Tour:
WSF invites all national associations that already have a banked slalom contest on their schedule to be part of the tour and fill out the attached application form to participate.
WSF also invite all of you to organize a Banked Slalom contest and get support from us on how to do it. We will give technical support to those who have never organized a Banked Slalom event, but WSF will also support the PR and communication for those events that are already planned for the season 2019/20.
WSF Banked Slalom Tour 2019/20 Calendar: 
30. August 2019: Treble Cone Banked Slalom – Treble Cone, New Zealand
11. January 2020: Hochkeil Banked Slalom – Hochkeil, Mühlbach am Hochkönig, Salzburg, Austria
19. January 2020: Brown Bears Banked Slalom – Saint Lary, France
15.-16. February 2020: Banked Slalom & Big Air – Kalavrita, Greece
29. February – 1. March 2020: Banked Slalom Gstaad – Gstaad, Switzerland
5.-8. March 2020: SuddenRush Banked Slalom – Laax, Switzerland
7.-8. March 2020: Burning Boots Banked Slalom – Brauneck, Germany
15. March 2020: Shred Down Banked Slalom – Westendorf, Austria – CANCELLED*
23. March 2020: Landing Snowboard Banked Slalom – Baqueria, Beret, Spain – CANCELLED*
28.-29. March 2020: Waveup Banked Slalom Arosa presented by all i need – Arosa, Switzerland – CANCELLED*
3.-4. April 2020: QKLS Rally – Tahko, Finland – CANCELLED*
5. April 2020: Banked Slalom Melchsee-Frutt – CANCELLED*
*CANCELLED EVENTS DUE TO CORONAVIRUS (COVID-19) GLOBAL PANDEMIC.
For any other info contact us here: events@worldsnowboardfederation.org
PARTNERS
UPCOMING EVENTS
Rev your engines! The tournament of turns is taking place this Friday in the brand new location of Playground at Cruiser to turn and burn
EVENTS NEWS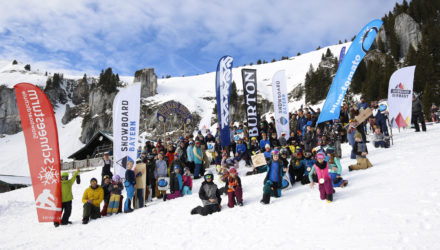 The third edition of Burning Boots Banked Slalom had it all – sunshine, fresh snow & banked turns. The event went down in March, before